A brief history of Nigerian worship songs
December 8, 2010
---
Although all religions praise their God(s) in one-way or another, the people of Nigeria utilize the art of song in a unique fashion. Even though Nigerian worship songs have gone through various incarnations throughout its history, the principal sense of love and devotion for their God has always been of the utmost importance.
Nigerian natives initially expressed their respect for the Almighty through song in order to praise God for helping them conceive a child, end a drought or even just to illustrate the fact that they could not exist without Him. A praise song might have also been sung in order to pay respect to a loved one or ask God for guidance. The natives were essentially praising God for some type of goodness He had brought to them.
The music for early praise songs was usually Hausa or Yoruba folk music. The Hausa were influential in Nigerian music as a whole as well as to praise music. The most important Hausa instrument was the goje, a one-stringed fiddle. The music of the Yoruba was also influential due to their use of drumbeats. Drums were often the main tune in connecting with God via music.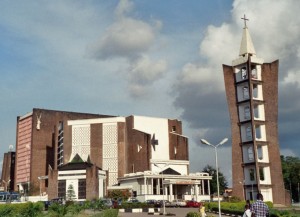 Despite the introduction of Christian missionaries into Nigeria, the natives refused to relinquish their desire and need to praise their God. Some natives even began incorporating aspects of Christianity into their songs of worship.
Prior to the advent of Christianity, praise songs were uttered for the purpose of praising God. The praise song was soon transformed into a worship song. Rather than just being able to praise God, a worship song could be used in countless situations.
Nowadays, Nigerian worship songs can be sung in order to pay tribute to the family or a marriage. These types of worship songs became more popular due to the advent of Christianity. The addition of Christianity also lent itself to worship songs being sung in a church setting. As with most religions, these Nigerian Christian songs are performed at certain times during each church service. When not in church, an individual can incorporate worship songs to into their everyday daily activities.
Even though each respective religion may have a form of worship or praise song, the Nigerian form is especially unique and personal. The uniqueness lies in the simplicity and emotionality of each and every song. The songs are rather inclusive because they are easy to remember due to their basic form. Although songs from some religions may be overly theological or convoluted in nature, the song writing in Nigerian praise and worship songs is always easily understood.
Several modern Nigerian worship artists include Faith Praiz, Fountain of Praise, Sister Agatha Moses, Agboola Shadare and Njideka Okeke. Collectively, these worship artists have continued the great tradition of praise and worship music. Although the music has been modernized, the message of faith and devotion to God is still the same.
Top 7 search terms for this article:
nigerian worship songs
nigeria worship songs
nigerian gospel praise and worship songs
nigeria worship song
njideka okeke biography
AbriefhistoryofNigerianworshipsongs|IHeartWorship
onitsha