Black Praise And Worship Songs
June 4, 2009
---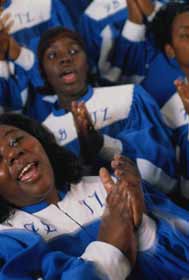 I hope that I do not offend anyone with the title of this post, but I am sure everyone knows what I am talking about. I am heading to America and Canada for 2 months shortly and love the idea of visiting an African-American Church and experiencing black praise and worship songs!
This style of Christian worship music has been portrayed in many Hollywood movies, with Sister Act probably being the most popular, but the energy and excitement that they show is just so contagious. Sometimes I think Pentecostal churches could still learn a lot from these churches. While I think that Pentecostal worship is out going to a degree, a lot of worshippers are still very restricted, but when you watch black praise and worship songs being played, you see everyone dancing and clapping and just being joyful in God's presence. And that is what worship is all about!
So find your favorite black worship song and send it too me. I will publish a list of the best black worship songs soon.
Top 7 search terms for this article:
black praise and worship songs
praise and worship songs for black churches
Pentecostal Praise and Worship Songs
black worship songs
african american praise and worship songs
black praise and worship lyrics
african american worship songs