Laura Story
August 8, 2011
---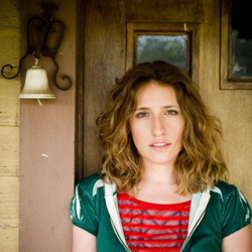 Laura Story is one of the world's best Christian songs author, and it was not until her early twenties that she discovered that she had the ability to write songs and sing. During her second year as a student at Columbia International University, Laura Story met a young man named Shane Williams, who asked her to become a member of his Indie Pop-Rock band known as Silers Bald. Five years later, Laura Story found that she was being drawn into a different musical direction, and so her manager suggested that she recorded her own independent album, although Silers Bald was on the verge of signing a record deal with Essential Records.
Laura Story started to record her first independent album in 2002, without knowing where the money for the recording sessions, or the last song on the album would come from. While driving along the mountain roads one particular day Laura Story began singing and worshiping, and the along with reading Job 38, the words of Story's final song on her first album came to her. This song was to be the title track of the album; the song name was 'Indescribable.'
'Indescribable' gained worldwide fame when in 2004 when it was recorded by Chris Tomlin for his album entitled 'Arriving,' which was produced by Ed Cash. 'Indescribable' instantly made it to the top of the America's Christian Music Charts, where for seven weeks it remained in the number one position, and for fifty weeks it stayed in the top fifteen.
During 2005, Laura Story released her sophomore independent album, which was produced by Mitch Dance and Ed Cash. This Christian songs author's sophomore album was entitled 'There is Nothing.' Also in 2005, Laura Story married Martin Elvington, and relocated to Atlanta where she became the women's pastor and the worship music leader for music and arts community at Perimeter Church.
Very regularly, this Christian songs author shares with more than one hundred women, her worship music and her love of God, through the job that she holds at Perimeter Church. Moreover, it does not seem that she has plans of slowing down anytime soon.
Laura Story has said that she does not have the perfect life or the perfect voice; however, she believes that God is allowing her to use her worship music to speak to the Church. This Christian songs author has also said that, during this period of her life she has learned more about who God is, and what exactly His plans for her are. She also believes that the messages that God gives her to share with others, are in the form of her worship music.
Related articles
Top 7 search terms for this article:
laura story
who sings he said
he said christian song
who sings the christian song he said
viagra store in indonesia