Skillet Lyrics in Worship Songs
February 19, 2011
---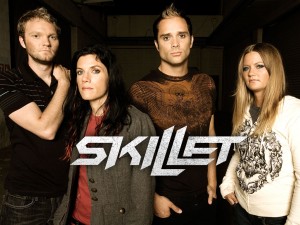 Skillet is a Christian rock band that was created in 1996 in Memphis, Tennessee. Skillet has grown in popularity for their progressive style of rock music but they have also become a major contributor of worship songs and have leapt to the forefront of the worship genre. Worship songs continue to grow in popularity especially as commercially successful bands such as Skillet produce albums that are center around Worship Songs. Skillet's most recent album Awake, is an example of a top christian album. The album was certified Gold and sold over 68,000 units in its first week. The fact that Skillet can have this level of commercial success with their writing and still continue to produce worship albums should be a testament to the important and prevalence of Christian worship songs in our society today.
Skillet has continued to produce quality worship songs and their band has emerged as a worship artist that has gone on tour for solely Christian worship type concerts. Skillet's album Ardent Worship is dedicated solely to music worship songs. Skillet's song writing is the main reason for their rapid rise in popularity. Skillet has managed to blend thoughtful lyrics along with progressive music styles into a unique blend of music that they have perfected.
Skillet is a great example of a leading Christian worship artist but there are many other Christian artists who write worship music. Steven Curtis Chapman is the most commercially successful Christian worship artist in history. He has sold more albums than anyone else and he continues to produce some of the top worship albums each year. The Christian bands Third Day, Mercy Me, Toby Mac, and The David Crowder Band are also all leading worship artists.
Worship songs have continue to progress in style over the past 50 years. There has been a significant trend towards more upbeat contemporary style worship songs over more traditional somber worship songs that have been sung in years past. The hymnal has been discarded and replaced with a slideshow of praise songs. Worship music however has not lost it's central focus. The entire focus of any Christian worship song is just as it sounds, to lead the singer in worship. Many of these songs are sung in churches across America every Sunday morning. Many of these leading artists also participate in youth events, Christian rallies, and other big Christian gatherings. Many successful secular icons have even invited worship artists to perform at their events because of their popularity.
Worship music can take many forms. Skillet and other leading contemporary Christian artists have developed their unique version of worship music but there is still a large segment of Christians who still prefer the traditional hymn music Whatever style you choose the important thing is whether or not you agree with the intent of the music, and if that is true then the rest is only details.
Top 7 search terms for this article:
skillet
skillet awake
skillet pictures
Skillet pics
skillet photos
Pictures of Skillet
skillet images