Greatest Hits by Casting Crowns
March 2, 2011
---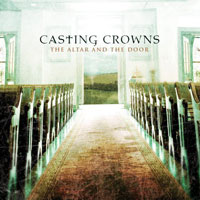 1. East to West
East to West is a song by the Christian Rock band Casting Crowns. It is from their 2007 single album The Altar and the Door. It won the song of the Year award at GMA Dove Awards and was also nominated as the Best Gospel Performance at the 51st Grammy Awards. It has been on billboard for the top 200 songs for 32 weeks at peak position of 25.
2. Until the Whole world hears
this is a song from the group's Album "Until the Whole world hears". It centers on spreading the God's Word throughout all nations, "Until the whole world hears". The name comes from Roger Glidewell's e-mail's signature who is Mark Hall's mentor student.
3. If we've never needed you
this song is still from their album until the whole world Hears. It has stayed active on the charts for a period of 33 weeks. It is peaked at No.5 on Billboard's Hot Christian Songs chart. It has also held the No.1 spot SoftAC/Inspirational chart for 8 weeks.
4. Praise you in this Storm
they say they watched and prayed for a precious little girl struggle with deadly diseases for several years. It is the girl's mother who inspired the song. The song is from their 2005 album lifesong and it has been on the Charts for 29 weeks.
5. Life song
this song was written by Mark Hall. He says worship began when he woke up that morning. Also he says that his life's purpose is to give God his glory through everything that he does. If his life does not worship him his song won't either. This song has been on the chart for 24 weeks its peak position being number 2
6. Slow fade
it was released as the third single of their 2007 album The altar and the Door. It was featured in the 2008 fireproof. It was included in the album vow hits of 2010. It has stayed in the Chart for 22 weeks. It is about protecting and informing the world about the moral cancer.
Top 7 search terms for this article:
casting crowns greatest hits
casting crowns hits
casting crowns greatest hits CD
casting crowns top hits
skillet girl
crowns
best of casting crowns